The Careful Collector's Guide to Buying Antique Paintings Online
5/25/2021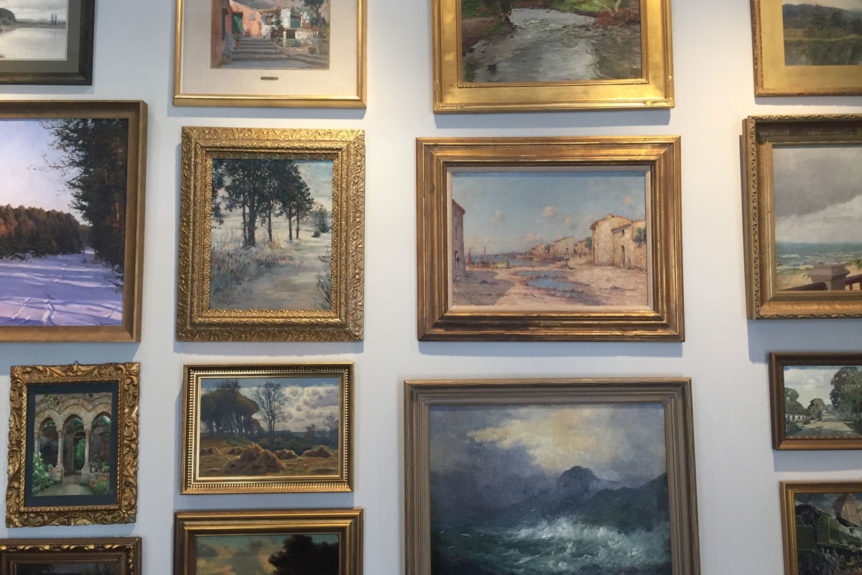 Buying antique paintings online
Given the choice, you probably prefer to see paintings in person before buying them. I know I do.
On the other hand, there are BIG PROBLEMS with buying antique art from brick-and-mortar antique stores and galleries:
Their overhead is huge, and you're the one paying for that overhead through higher prices (usually more than double what you could be paying). I should know – I owned a fine art gallery on Magazine Street in New Orleans for eight years.
You're limited to the art that happens to be hanging in the shops in your town or places you visit. And the inventory doesn't change often.
Most don't let you return art once it leaves the gallery; I did at my gallery, but most others don't.
Buying antique paintings at auctions
If you're into buying at auctions – well, there are no guarantees or refunds there either. It's "buyer beware" at every auction house. Even if, for example, you end up with a forgery or uncover damage (as has happened to me from time to time). And though I sometimes buy at auctions, it's only because I know exactly what I'm doing, and can offset the occasional mistake with good purchases. Most collectors don't have this luxury. You have to also consider the buyer's fee of 20% to 25% that will be added to your cost when you buy at auction.
Enter the Internet
The Internet has opened up a wonderful new way to buy fine antique paintings at far lower prices. But with one drawback: you can't see the paintings in person before you buy them. And you don't always know much about who's doing the selling.
That means everything comes down to how much you trust the seller, whether you really know what you're getting, and whether you can get your money back if you decide you don't want to keep it.
Eliminating risks
I realize this can by troubling. That's why at Guy Lyman Fine Art, I've eliminated the risk by offering a no-questions-asked refund policy for 30 days. And for up to five years after the purchase I will continue to accept returns for any reason at all, offering full credit PLUS 5% per year interest added (that's up to 125% of your original purchase price).
I carefully choose and really appreciate every painting I acquire, and I never mind having them back. There's nothing in my inventory I wouldn't want on my own wall. In fact, they hang floor-to-ceiling in my salon in New Orleans, where I often share a cocktail with fellow art collectors (I encourage you to visit me when you're in New Orleans – I enjoy meeting collectors in person and talking about art, whether they're raw beginners or long-time collectors).
My clients know I don't mind returns at all, and don't feel guilty if they decide to send something back. I encourage them to try things out on their own walls before committing.
Again, buying paintings via the Internet is just as safe as buying from a gallery if there's an iron-clad guarantee and you trust the seller to honor it and not quote some tricky fine print.
As I mentioned above, buying online is often safer since auction houses and most galleries will not take art back once they have sold it to you (and they certainly will not pay you interest).
Furthermore, I have a reputation to foster. My name is on the business. I don't want a single person to ever be unhappy dealing with me, in the slightest way.
In fact, I enjoy knowing that it's easy to find reviews on businesses these days. It works in my favor, since I do anything necessary in order to please my collectors and work with them for life. Selling a painting to someone is gratifying; but helping someone build a collection over the years is a thrill.
A "hello" discount
I'm not going to mention it on the site as it seems a bit tacky, but if you happen to have read this far I'm going to reward you by giving you a 15% discount on the first painting you buy from me. Please mention that you read this so I'll know to give you the discount. The return guarantee "with interest" still applies. Visit the inventory page and pick out something wonderful to get us started.