5 Tips for Buying Art Online
4/17/2021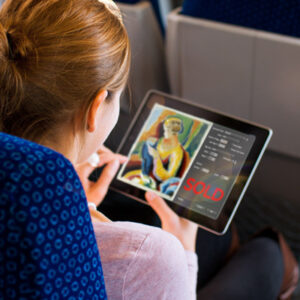 Even before the coronavirus came sweeping in, there as a steady movement towards buying art online rather than visiting art galleries to find it.
The main reason is obvious: how may art galleries do you have time to visit? There are only so many in your own town. And most of us don't have the luxury to fly around visiting galleries to see more art.
But on the Internet are literally MILLIONS of paintings for sale. This being said, there are some general principles to follow when buying art online.
Insist on a good guarantee. You want a no-hassle policy for returning the art and getting your money back. You don't have the luxury to see the art in person first, so if it doesn't work for you, you need to option to return it.
Make sure the seller is trustworthy. This is related to the first principle. It's easy to get ripped off buying art online. There are plenty of scammers. Does this seller have a reputable business? If on eBay, Etsy or a similar service, do they have a fine reputation?
Ask for addition photos. Because you can't see the art in person, don't feel embarrassed to ask for more photos if you want them. Don't leave out close-up photos, which give you a feel for the brushstrokes, impasto and other characteristics that add to a painting's character
Look at the artist's other work. Is this a one-off successful painting amidst a body of otherwise mediocre work? On the opposite extreme, are there other paintings by the artist you might like better than the one you are considering? Google the artist to see what else pops up on the Internet.


Ask about shipping cost. As paintings get larger or more expensive, the cost of shipping and insurance goes up. Don't leave this out of the cost as you consider a purchase.
At European Art Underground and New Orleans Art Exchange you'll get a buy-back guarantee, the confidence of a fine reputation over many years as a dealer, and a superb selection of art at affordable prices. European Art Underground is the best place to buy antique European paintings, and New Orleans Art Exchange is the #1 source for New Orleans art by classic artists, along with a few hot contemporaries. Please visit when you get a chance!