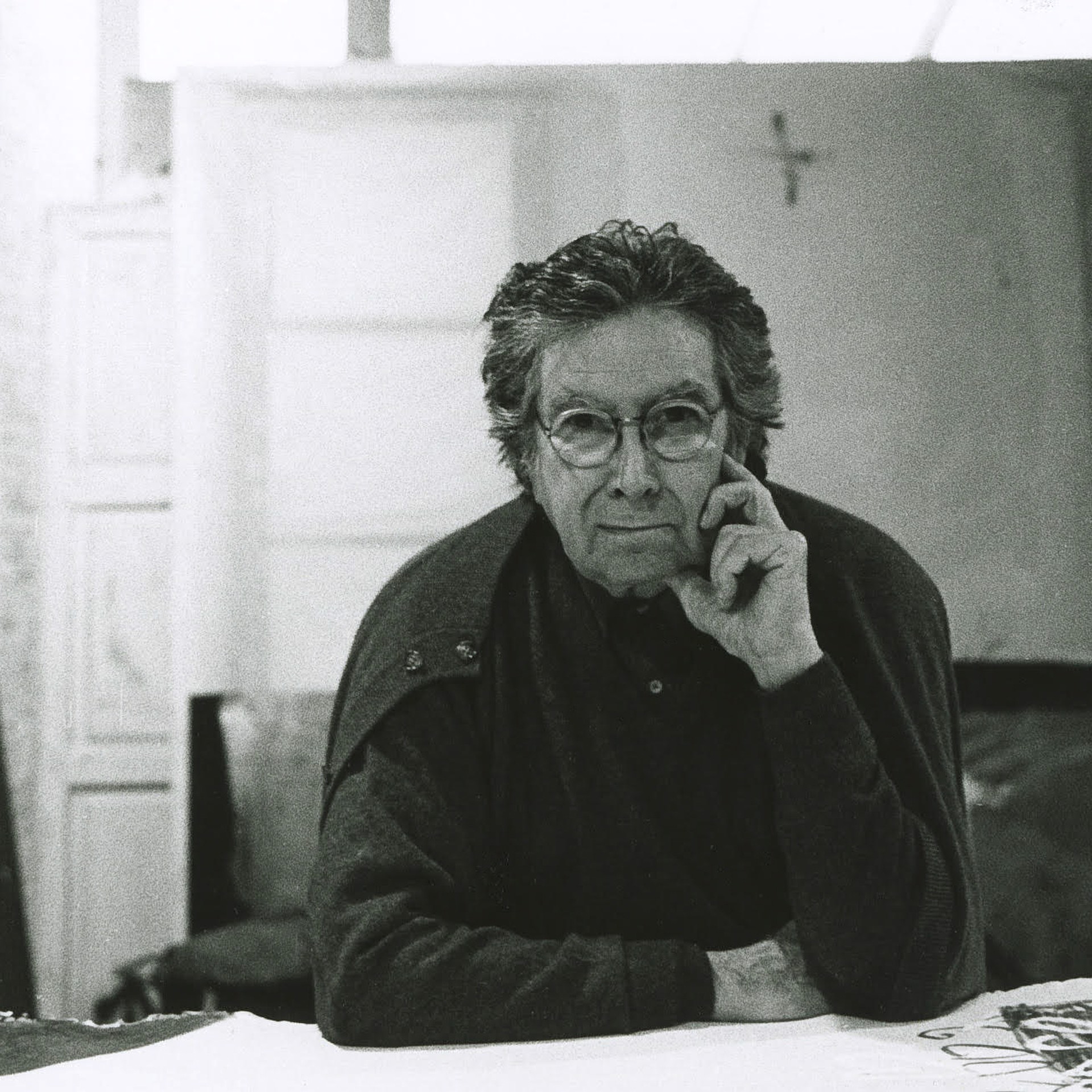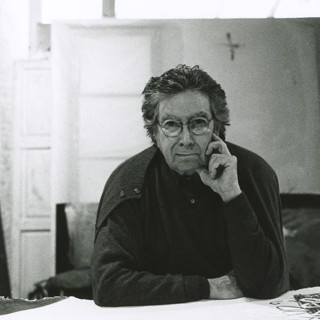 Antoni Tàpies was born on December 13, 1923 in Barcelona, Spain. He was raised a strict Catholic, and his childhood was scarred by the Spanish Civil War and by Catalan nationalism. He was an artistic teenager, and when he nearly died from tuberculosis at age 17, a two-year convalescence allowed him to deepen his passion. His lawyer father shunted Tàpies along the same path, sending him to the University of Barcelona, but his artistic studies slowly overtook his legal ones, and after two years he devoted himself to art. Tapiès took a few drawing classes, but left unimpressed, and forged his own style under the influence of artists such as Max Ernst, Paul Klee, and his friend Joan Miró. He joined Els Blaus, a group of Catalan writers and artists, and in 1948 helped found the magazine Dal au Set.
Tàpies' first paintings were abstract collages that prefigured the arte povera movement by incorporating everyday objects like string and paper. In 1950, his work was shown at the Galeries Laietanes in Barcelona. After the French government sponsored him a year of study in Paris, he began to exhibit in the United States — starting in 1953 at Martha Jackson's gallery — as well as in South America, Europe, and Japan. He represented Spain in the Venice Biennale in 1958, and was shown at the Solomon R. Guggenheim museum.
In America, Tàpies' sober works contrasted the brilliant exuberance of the Abstract Expressionists. His style developed through a phase of symbolic Surrealism into part of Art Informel or matiérisme, matter art — a movement that loosely groups subversive artists who used gestural abstraction to explore war, trauma, and absurdity. His canvasses, richly layered and textured, incorporating mud and sand and marble dust, feel like excavations. He evoked the violence of the Spanish streets, the suppressed energy breaking out into graffiti, by applying his materials to surfaces that suggested windows or gates or doors. "The dramatic sufferings of adults and all the cruel fantasies of those of my own age, who seemed abandoned to their own impulses in the midst of so many catastrophes, appeared to inscribe themselves on the walls around me," he stated in 1969. "My first works of 1945 already had something of the graffiti of the streets and a whole world of protest — repressed, clandestine, but full of life — a life which was also found on the walls of my country." He also retained Surrealist influence in the mysterious symbols scratched into his clay and across his canvasses, a secret language he refused to decipher. He wanted his viewers to engage themselves in interpreting his art, and also desired to comment on the loss of sincere spirituality. "In our world, in which religious images are losing their meaning, in which our customs are getting more and more secular, we are losing our sense of the eternal," he said in 1990 on the BBC arts program "Omnibus". "I think it's a loss that has done a great deal of damage to modern art. Painting is a return to origins."
In 1984, Tàpies created the Tàpies Foundation to study modern art. Pop Art and Conceptualism took over from Art Informel, and Tàpies contributed somewhat to these movements, creating pieces out of mattresses and desks. As he aged, his work reminisced over the themes and images of his youth. He was given retrospectives by the Jeu de Paume in Paris in 1994 and by the Reina Sofía Museum in 2000, and in 2010 he showed at his son's gallery in Barcelona as well as at the renovated Tàpies Foundation. Antoni Tàpies died in 2012 at the age of 88.
Sources include:
Artnet, http://www.artnet.com/artists/antoni-t%C3%A0pies/
Guggenheim, https://www.guggenheim.org/artwork/artist/antoni-tapies
New York Times, https://www.nytimes.com/2012/02/07/arts/design/antoni-tapies-spanish-abstract-painter-dies-at-88.html